Announcements
Our Lab is seeking for a motivated M.S. or Ph.D. student to work on a funded project as a graduate assistant. Students who are interested in nanomaterials and their environmental applicants should send an email to onur_apul@uml.edu. Please include your CV and a short cover letter expressing your interest in the email.
News and Updates
Student Research Symposium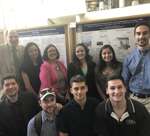 Civil and Environmental Engineering capstone students presented their work at the student research symposium (5/2/2018). Their work was designing a sustainable sanitation solution for a single housing unit of an orphanage in Las Cayes, Haiti under the supervision of Profs. Barrington, Giles and Apul. The project was also highlighted in the Francis College of Engineering Solutions Newsletter.
May 3, 2018
Seminar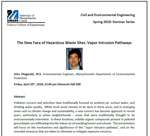 John Fitzgerald from Massachusetts Department of Environmental Protection was hosted by Onur Apul on April 20th at 12:00 pm as a part of Civil and Environmental Engineering Seminar Series. The presentation title was "The New Face of Hazardous Waste Sites: Vapor Intrusion Pathways".
Apr 23, 2018